Pink Puffle

Talents

Athletic

Tounge Color

Red

Athletic Rating

1

Elite Represenative

Loop

Other Famous Pink Puffles

Agent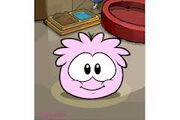 The pink puffle is the cheerful and sporty type of puffle. They First became available in February 2006. They are one of the first puffles to be found on the release date of the first 4 to be found.  They are the most athletic of all the puffles. They like to play with their skipping rope and trampoline. 
They are athletic and particatpate in many sports, such as,
1. Scuba diving
2. Jumping rope or jumping on a trampoline
3. Lasoing (most notably Loop)
4. Track
Bath: After she jumps in we see a snorkel sticking out of the tub, spinning in circles. Then the puffle comes out to show us she has a snorkel on.
Dance: The first move of the purple puffle's dance.
Toy: Does tricks while jumping rope.
Super toy: Jumps on a trampoline.